Mid-market resilience, a good sign
Steady as she goes. Those are my initial thoughts after reading the results of the December 2022 quarter Business SA, William Buck Survey of Business Expectations.
What we are seeing is a theme of resilience in the mid-market. Business confidence increased slightly by 4.5 points from the September quarter, with a minor decline of 1.7 points in business conditions.
It seems many who survived the extreme turbulence of COVID have learned even with the current economic challenges, pushing through is the way to go.
For many businesses, however, the concept of pushing through is proving challenging. Unsurprisingly, labour shortages remain one of the biggest issues for businesses in the December quarter according to 58.3 per cent of respondents, however this is a positive reduction from 70 per cent last quarter.
Although reporting strong trade, results note sales as the biggest issue keeping business owners awake at night, a clear shift from supply issues last year, demonstrating concern continual interest rate hikes may start to bite.
Further, business also reported higher expenditure than forecast in wages, materials, and overheads with over 50 per cent of surveyed businesses experiencing cost increases, but only one-third inflated their prices to manage the additional expense.
There is optimism in the air. It's clear reading today's results we are seeing an appetite for innovation and growth.
Business owners seem ready to push through economic headwinds and expand with around 60 per cent of businesses hoping to achieve at least double-digit growth in the year ahead and about a third hoping to grow by more than 50 per cent in the next five years.
Hopefully over the next 12 months we will see access to skilled labour become easier for businesses. Right now, the biggest constraint to achieving any sort of meaningful short or long term growth is the unavailability of workers.
With many businesses ready to grow, I encourage them to not let their energy prices grow at the same time. According to the December quarter survey results, 31 per cent of businesses admit they have never attempted to improve their energy efficiency.
With 81 per cent of businesses reporting price hikes in their energy bills of up to 29 per cent, businesses should act now to find savings, install energy-saving infrastructure, or invest in solar and battery technology to help ensure growth is not counteracted by increased energy bills.
Cost is not the only energy concern for businesses, with a clear lack of faith in the government's energy transition. 78.5 per cent of business operators reported they don't believe the Federal Government has adequately planned for Australia's transition to renewable energy, with lack of confidence in the State Government's approach sitting at 67 per cent.
I do believe the outlook is improving. The overall confidence displayed in this quarter's results despite rising inflation, energy price increases and lack of labour, demonstrates the resilience of mid-market business irrespective of the broader economic conditions.
To read the full report, please click here.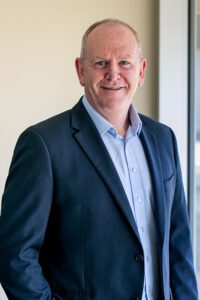 By Jamie McKeough, Chair and Managing Director
Jamie is the Managing Director in South Australia and Chair of the William Buck Board of Directors. Jamie provides business and financial management, tax and accounting advice to clients across many different industries. His key strengths are in problem solving and understanding business models and the key drivers of business.