About William Buck in Western Sydney
William Buck has been part of the Australian business community for over 120 years.  Whilst we provide services to a broad range of clients, our core focus is on the private business community.  It is these businesses that are also the engine room for Western Sydney.
Our commitment to Western Sydney area has been increased through our merger with Priestley & Morris, a well-known Chartered Accounting practice founded in Parramatta in 1899.
At William Buck we specialise in providing individuals and businesses with a full range of accounting and advice. This includes business advisory, corporate advisory, tax, wealth, and business recovery services. Our integrated approach brings together expertise from across divisions and locations, providing specialist solutions tailored to you, and your region.
To hear more about our services, please contact us on nsw.info@williambuck.com 
About Making Western Sydney Greater
Making Western Sydney Greater is a collaborative project between William Buck, St. George, the University of Western Sydney, and Western Sydney Business Connection.
Analysing the experiences of business owners and managers in Western Sydney, we identify issues specific to the region and drive positive change.
Using your results we:
Inform government on the key issues you identify
Create seminars and training targeted to your needs
Arrange networking opportunities for local businesses with common opportunities, interests and challenges
Develop resources to directly support Western Sydney businesses
And more.
When you participate you'll get priority access to all of these resources, as well as a full copy of the research report.
Our fifth survey which is targeted to Western Sydney business owners and managers has been released. In this edition, we focus on the benefits and obstacles of automation, and take a look at the growth and employment outlook for businesses in Western Sydney.
Making Western Sydney Greater Survey
Our 2018 Making Western Sydney Greater survey is now closed. Thank you to everyone who participated and shared their views.
We look forward to sharing the results with you very soon.
If you have any questions about this initiative, please contact our team.
Making Western Sydney Greater Reports
The fifth report in the Making Western Sydney Greater research is now available. In this edition, we investigate the impact automation is having on businesses in Western Sydney and the challenges that lie ahead. Our research also shows that businesses in Western Sydney have grown their business, exceeded their profit targets and expanded their workforce consistently over the last few years. This is the trend for the region as a whole, but there are also a core group of businesses that are finding economic conditions particularly challenging. Download your copy of the research, and find out what's Making Western Sydney Greater for businesses, click here.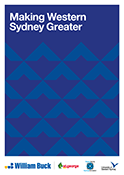 Please find previous editions of the report below
Our Philosophy
Priding ourselves on delivering personalised, practical expertise, our strength lies in our unique philosophy of 'Changing Lives'. This philosophy has been developed in recognition of the role we play in the lives of our clients, employees and the wider community. We're more than just advisors; we aspire to create a positive change in the lives of those around us.
Our approach reflected in the Making Western Sydney Greater initiative, where we also strive to create a positive change to the business and broader community. Our Making Western Sydney Greater research initiative is designed to identify and help resolve regional issues, and assist local businesses in accessing the resources and opportunities they need.