Buckle up and get ready to kick-start your career!
Starting your career is an exciting time. New colleagues, new challenges, new horizons.
Selecting the right professional services organisation to develop your experience and skills is essential to setting up a successful and fulfilling career. Want to be valued for what you can bring and where you want to go?
If you're seeking the opportunities you can't find elsewhere and are ambitious for a career that brings both growth and opportunity, William Buck offers career paths as unique as you are.
Get bigger bang for your Buck
We offer a competitive alternative for long-term career aspirants that fulfils personal and professional goals through a career path that develops skills, embeds an empathetic culture and places value on what an individual can bring.
We don't seek those who wish to simply join to fill an experience gap in a CV. We seek those who want to stay, who want to build their career, their networks, their sense of connection and community.
Our awards
We are proud to be among Prosple's Top 100 graduate employers. Prosple is one of New Zealand's leading graduate recruitment specialists.
We are equally excited about having won Voice Project's 'Best Workplace' award.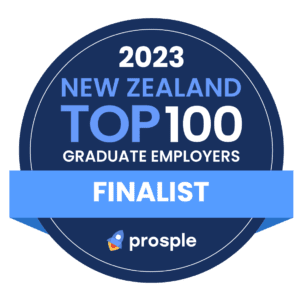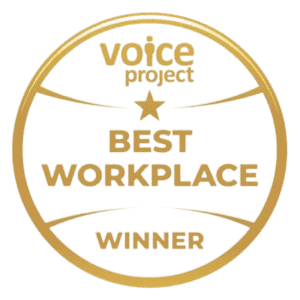 "I had a friend already working for William Buck, who encouraged me to join the William Buck Graduate Program. Through the program I had the ability to apply my tertiary education and theoretical knowledge to real life situations and was supported through rigorous and available mentorship and training events. Due to the amount of knowledge available in the industry and the support William Buck provides me to obtain it, I see my career growing steadily with my Chartered Accountant accreditation and holding a senior position with William Buck. The best thing about working at William Buck? – my colleagues and the associated culture."

–  Ryan Hilhorst, Business Advisory, Auckland
"William Buck has notably guided me through my time as a graduate. I have felt supported throughout the whole experience, with someone always willing to help and dedicate time to my learning. Everyone is wanting to help you succeed as well as being extremely friendly and easy to get along with."

– Maddie Watson, Auckland office
Business areas for graduates
Business Advisory
Offering a full range of advisory services to the diverse, rapidly expanding middle-market business sector, you'll work in a team that helps clients to build successful and sustainable businesses. You'll have the opportunity to work across a wide range of areas including:
Strategic business advice
Compliance (financial statement and taxation return preparation)
Management analysis
Budgeting and cash flow forecasting
Restructuring and asset protection
Business performance management and benchmarking
Audit & Assurance
Assisting private, public and not-for-profit organisations of all sizes, you and your team will help clients manage their business and technology risk, improve business performance and manage their corporate reporting. You'll have the opportunity to work across a wide range of areas including:
External and Internal Audit
Financial Reporting
Fraud investigation and prevention
Other Assurance and Special Projects
Tax services
Working in a team that has a vast impact on its clients' businesses, you'll assist clients with ongoing tax compliance and material issues arising from various transactions. Specific areas include:
Tax risk management strategies
Merger and acquisition transaction structuring
Tax effective exit strategies
International tax and transfer pricing
Risk assessment
Employee share plans
Tax planning
Our Values
Our mission and values are centred around one philosophy: CARE.
Collaborative: Together, we can achieve amazing things
Aspiring: To unlock the potential in everyone
Relationship driven: In everything we do
Enterprising: Innovative in our approach
Our Teams
With three service lines we offer a number of opportunities for your future career, but you may not know which area you want to specialise in. We'll take the time to get to know you and help find a career path which suits you best. Please note that not all service lines operate in every office.
We value you by rewarding you in different ways
We offer a choice of benefits that are focused on your health and well-being, provide flexible working options that balance the needs of life and business, and encourage opportunities to give back to our communities.
Whether you start your career with us as a graduate or join us at a more senior level, William Buck offers challenging opportunities and outstanding workplace benefits in a supportive environment.
Learning and development
The continued success of William Buck depends on our people. Building a sustainable high-performing workforce is a priority and we do this by providing a continuous learning environment which supports, nurtures, and develops our people to realise their full potential.
Do you have a question? Contact us