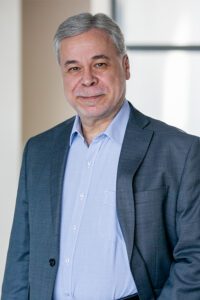 "Building successful relationships with clients to achieve their goals is very rewarding."
Frank Del Borrello
Director, Business Advisory, Tax Services
In line with his personal values, Frank takes a clear and straightforward approach to fulfilling his duties. His inherent principles of responsibility and reliability, together with his methodical work ethic, make him a respected Director at William Buck.
Taking a hands-on approach to everything he does, Frank devotes a lot of time to forming strong, loyal relationships with clients, associates and colleagues. He believes this philosophy fits in with the company's ideals. "Building relationships with clients requires commitment but is crucial," says Frank.
For over 28 years, Frank has developed extensive expertise in business advisory, financial management and tax services. Today, he works closely with a large number of clients in all matters relating to their business, succession planning and estate planning.
Highly practical, meticulous and traditional, Frank creates order, security and stability for his clients to achieve best possible outcomes no matter the challenge.
Core Expertise
High level of technical and professional skills in both accounting and tax
Financial and management consulting
Superannuation (in particular self-managed funds)
Business restructuring
Estate and succession planning
Family businesses
Qualifications
Australian Financial Services Licence Representative
Bachelor of Business (Accounting)
Chartered Tax Adviser
Member of CP A Australia
Member of Chartered Accountants Australia and New Zealand
Registered Taxation Agent
Industries
High net worth individuals
Property and construction