Cash is king and funding is the fuel on which a business runs. With the uncertainty caused by the COVID-19 and the lockdowns enforced as response, business funding is especially important. We've even seen profitable businesses fail from neglecting to address a lack of cash flow.
A business will generally need funding when:
It's undergoing or aiming for expansion
It's turning away new business
Its current funding reaches limit / is exhausted
It's unable to meet commitments
The business is slow to pay debtors, and
The owners are dipping into personal funds to keep the business afloat.
It's important for business owners to understand the type of finance that best suits their business, and what, if any, security they have to offer. Outlined below are the top debt funding options every business owner should consider.
Bank loan (Term loan)
Secured or unsecured, this is your traditional business bank loan. A fixed sum of money is borrowed and principal and interest are paid back over an agreed term (usually between one and five years, in monthly instalments).
TIP: If you received JobKeeper payments between Jan-Mar 2021 and your turnover is less than $250m, you may be able to access the SME Recovery Loan Scheme. This loan is 80% secured by the Federal Government, offers a repayment holiday of up to 24 months and borrowers can access up to $5 million in total. Ask your lender if they participate in the scheme.
Bank overdraft / line of credit
A bank overdraft or line of credit allows a business to borrow up to a pre-set limit as they need it. Interest is charged on the amount of money used from the overdraft. This generally requires security of property or other business assets, or very strong financial performance. A bank overdraft or line of credit suits businesses that are in and out of credit throughout the month.
TIP: Businesses may want to consider options beyond the traditional banks such as offerings from online lender Zip business (trade), Prospa loan, Valiant Finance, Swoop Finance and many more.
Business credit card
Allows a business to pay for large purchases and everyday expenses. Monthly principal and interest payments required. May include interest-free periods (generally up to 55 days). This can help cash flow management and improve efficiency. Unless paid fully monthly, interest charges make this a more expensive funding option.
TIP: Always be on the lookout for a business credit card deal with low or no annual fee, low balance transfer or purchase rate options and perks such as insurance and rewards program.
Equipment finance/leasing
Lender provides finance to help a business purchase equipment. The equipment serves as primary security and can be purchased immediately, with the lender setting a repayment schedule.
Equipment financing can improve cash flow and inject working capital, saving the business from large upfront purchases. Access to essential equipment or vehicles can facilitate new contracts and growth opportunities. Sometimes this method can be used to raise capital against equipment assets already owned by the business, where there is a viable business purpose.
TIP: To save time comparing the different options available, use comparison sites such as Canstar, Mozo and Finder.
Invoice (debtor) finance
This type of funding allows a business to assign to the lender its receivables (i.e. unpaid invoices). The lender provides cash advance of 75-95% of the value of invoices outstanding, bridging the cash flow gap between when expenses are incurred and when customers pay. Loan approval and availability of funds usually occurs very quickly. Facilities are designed to grow as sales increase, allowing for accelerated growth.
Other types of debt funding options include floorplan finance, merchant cash advance and trade finance.
With all debt funding options, its important you understand what the lender is looking for. It's also important you have your cash flow forecasts and budget prepared when seeking to secure funding as this will demonstrate the repayment capacity and provide confidence to lenders.
Please contact your local William Buck business advisor for information on how we can help you seek funding.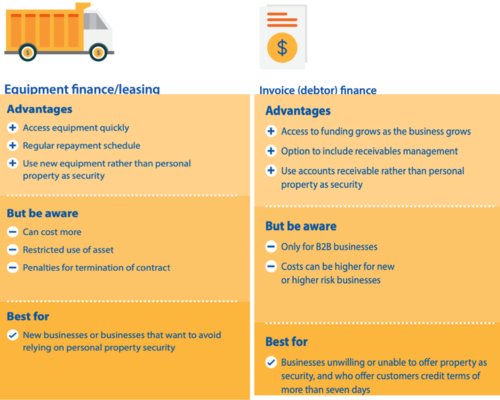 Image sourced from: Australian Small Business and Family Enterprise Ombudsman