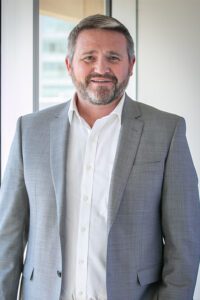 "Have a plan and use it. Track, reflect and amend regularly."
Grant Martinella
Director, Audit & Assurance
Making the transition from a diesel mechanic early in his career to an Audit Director at William Buck is a demonstration of Grant's determination, commitment and drive – all qualities he now employs in his client work.
It may be this unique career progression that leads many to describe Grant as 'not your typical auditor'. Personable, open-minded but with a no-nonsense, approach, he brings strategic and collaborative thinking to every situation. Grant appreciates that there's always a number of ways to solve any problem, so valuing everyone's opinion and keeping the bigger picture in mind is essential.
One of Grant's greatest strengths is his ability to interpret complex accounting issues and impacts, and then provide accurate and timely advice.
He has extensive Big 4 experience in London, Brisbane and Adelaide, with an expertise across ASX listed companies, large proprietary companies, associations, not for profit entities and trusts.
Grant believes that you can learn something from everyone and every situation, so it's no surprise that he gets the most satisfaction out of building strong relationships with his clients and helping them to find ongoing solutions to best manage their risk.
Grant is a Chartered Accountant, Registered Company Auditor and an approved external examiner under the Legal Profession Act 2004. He is also an Audit Committee member of the Mallee Catchment Management Authority and Centennial Park.
Core Expertise
External and internal audit and assurance
Financial reporting
Corporate governance
Risk mitigation and control assessments on business processes
Due diligence
Data mining
Self-managed super fund audits
Qualifications
Bachelor of Commerce
Member of Chartered Accountants Australia and New Zealand
Registered CompanyAuditor
Audit Committee member of Mallee Catchment Management Authority & Centennial Park
Audit Committee Member, Centennial Park
Industries
Aged care and community housing
Not for profits
Manufacturing
Education
Agribusiness
Racing and gaming