"It's our responsibility to do everything in our power to help clients and apply the law in their favour."
James Northcote
Director, Business Advisory
James is a person who likes to lead by example, and he's not afraid to set the bar high. Consistent attention to detail, loyalty, integrity, and determination are the values he measures his performance against, driving him to achieve the highest levels of client satisfaction. 
James has applied his accounting and business skills to helping charities, volunteering as the Treasurer of the Cystic Fibrosis South Australia Board, where he has learnt invaluable skills in human resources, strategic planning, operational policies, financing decisions, and government relations.
"Being on the Board has helped me gain an understanding of some of the issues and thought processes that our clients go through with their businesses on a daily basis. What I didn't realise was how much I would enjoy being involved, or of the benefits to my career in gaining new business networks."
James joined the Business Advisory Division of William Buck as a Manager following the merger with MSI Tilley Adelaide in January 2011, was later promoted to Principal in 2018 and appointed a Director in July 2021.
With more than fifteen years' experience, James consults to a range of agribusiness, specialising in viticulture/wineries, horticulture and broadacre farming, and also has significant experience with other small to medium enterprises and medical professionals.
Core Expertise
Tax planning and compliance
Management accounting, budgeting, cash flow analysis
Business restructuring and succession planning
Qualifications
Bachelor of Commerce (Accounting)
Member of Chartered Accountants Australia and New Zealand
Diploma of Management
Industries
Private business
Agribusiness
Viticulture / wineries
Horticulture
Healthcare
Not-for-profits
Latest Articles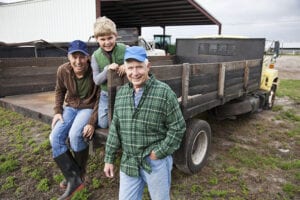 A year ago, the South Australian agri-sector was facing hot, dry and damaging conditions. Now, it's managing...