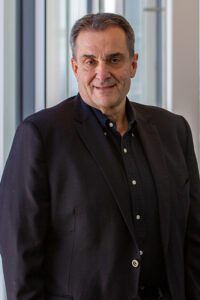 "As Managing Director, the buck stops with me, and I can't expect others to follow if I'm not prepared to lead."
Nikolas Hatzistergos
Managing Director
Nick's considerable skills made him an early leader in the accounting and advisory field. Still one of the youngest ever ICAA members to be granted a practicing certificate, his wealth of experience is exceeded only by his enthusiasm for what he does.
Active listening, empathising with clients, and working hand in hand to improve their business and grow their wealth is at the heart of everything Nick does. "It means I get a good perspective of a client's issue. And over time, I've become much better at breaking down problems into small pieces".
When under pressure at work, Nick prides himself on keeping a level head and staying calm. He saves his emotion for the rugby league field, never missing a game when his team's playing.
Over the last 25 years, Nick has acted as an accountant and advisor to a range of businesses. Nick works to provide successful solutions to clients' problems, blending specialists and resources from across the firm to achieve this. He has a breadth of experience in navigating a range of complex situations, including providing an expert opinion in litigation support cases, conducting post collapse reviews, and resolving disputes between estates, individuals, and companies.
Combining his technical abilities with a passion for creating success, Nick also sits as a non-Executive Director on a number of Boards including banking, sport and not for profit organisations. He also frequently presents papers on accounting and business management issues for a number of professional bodies, and has authored a number of papers that have been published both in Australia and overseas.
Core Expertise
Development of management structures and reporting systems
Property development and funding strategies
Non-executive directorships
Qualifications
Bachelor of Economics
Fellow of Chartered Accountants Australia and New Zealand
Chartered Tax Adviser
Registered Company Auditor
Industries
Property and Construction
Professional Services
Hospitality and Tourism