"The foundation of providing advice is taking the time to listen and learn."
Zeb Ashton
Principal, Wealth Advisory
With over 13 years' experience as a qualified private wealth advisor, Zeb knows the importance of building trust with his clients to provide tailored advice specific to their needs. 
Zeb's clients rely on him to provide ethical professional advice and know he backs up his advice with action. His client feedback and referrals are Zeb's measure of success, he knows that by taking the time build an ongoing relationship with his clients he will be able to provide the most successful long-term strategies.
With experience in every aspect of portfolio management Zeb ensures his clients priorities are reflected within his strategies, whether it be wealth creation, structuring, estate planning or asset management.
Zeb is extremely family oriented and loves to travel, when he isn't in the office he can be found doting on his two young kids or heading off on the next family adventure.
Core Expertise
Strategic advice
Structures
Estate planning
Asset management
Qualifications
Advanced Diploma of Financial Planning
Graduate Diploma of Taxation Law
Industries
High Net Worth Individuals
Family Law
Small to medium business owners
Latest Articles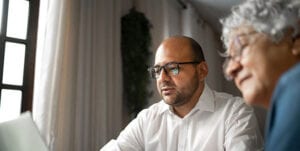 With life expectancies across the globe increasing and adults remaining active for longer, having a strong retirement...