Given the time pressures of running a business, many startups and even SME's, can only devote a limited amount of time to manage the company's finances. Adding to this pressure is the fact that most startups can't afford to employ an in-house Chief Financial Officer. Whilst a bookkeeper or external accountant will prepare the accounts and lodge the annual tax return, they don't provide the forward-looking, long-term strategic financial advice of a CFO. Enter the Virtual CFO, also known as a VCFO or outsourced CFO.
A VCFO helps bridge the gap of receiving strategic financial advice without having to bring on a full-time CFO. There's no one size fits all approach when using a VCFO.
A VCFO will tailor their services to suit the needs of your business. They are flexible and scale with you. No two VCFO engagements are the same, so you should be able to choose what services you need and adjust this over time as you grow.
A VCFO acts as an impartial partner. They will proactively recommend changes to the business from accounts payable processes to product pricing and customer profitability advice. They will make informed decisions based on the financial information on hand.
A VCFO will turn your finance function into a competitive advantage
With rapid technology changes and demands to have up-to-date data in real time, more businesses are starting to lean towards hiring a VCFO. A VCFO is the fraction of the cost of a full-time employee and offers expertise beyond that of a bookkeeper. Companies going through major change, restructuring for growth or reshaping their strategy, can use a VCFO for specialised tasks, even for a temporary period.
If you're a startup and have plans to grow, the expertise of a VCFO can guide you through the process of scaling your startup. For example, if you've never delivered regular reporting to investors, you'll likely need assistance sending frequent financial updates. Communicating effectively with investors will give them confidence and reassurance that their investment was the right choice and will boost your chances of raising further capital.
The right VCFO should have experience with capital raising and eliminate the risk of producing inaccurate reports that can damage your startup's reputation and valuation. A VCFO can come in and rebuild your reports, so you have the right ones to use on a regular basis – be it weekly, monthly, quarterly or annually.
Investors will want to see the due diligence behind your startup and this information needs to be easy-to-read, accurate and easily explainable. If an exit event arises, you'll need an advisor on your team that has the experience and proven processes to navigate these situations.
Being virtual means the VCFO can access your business's information remotely, anytime, anywhere, and deliver immediate results around the clock – and only being paid for the hours worked or work delivered.
A VCFO gives you peace of mind
A VCFO will help you roll out your strategic plans and provide the financial forecasts and modelling to help your business grow. Using a VCFO doesn't always have to be 'virtual', you can decide on the level of engagement and how you interact with them.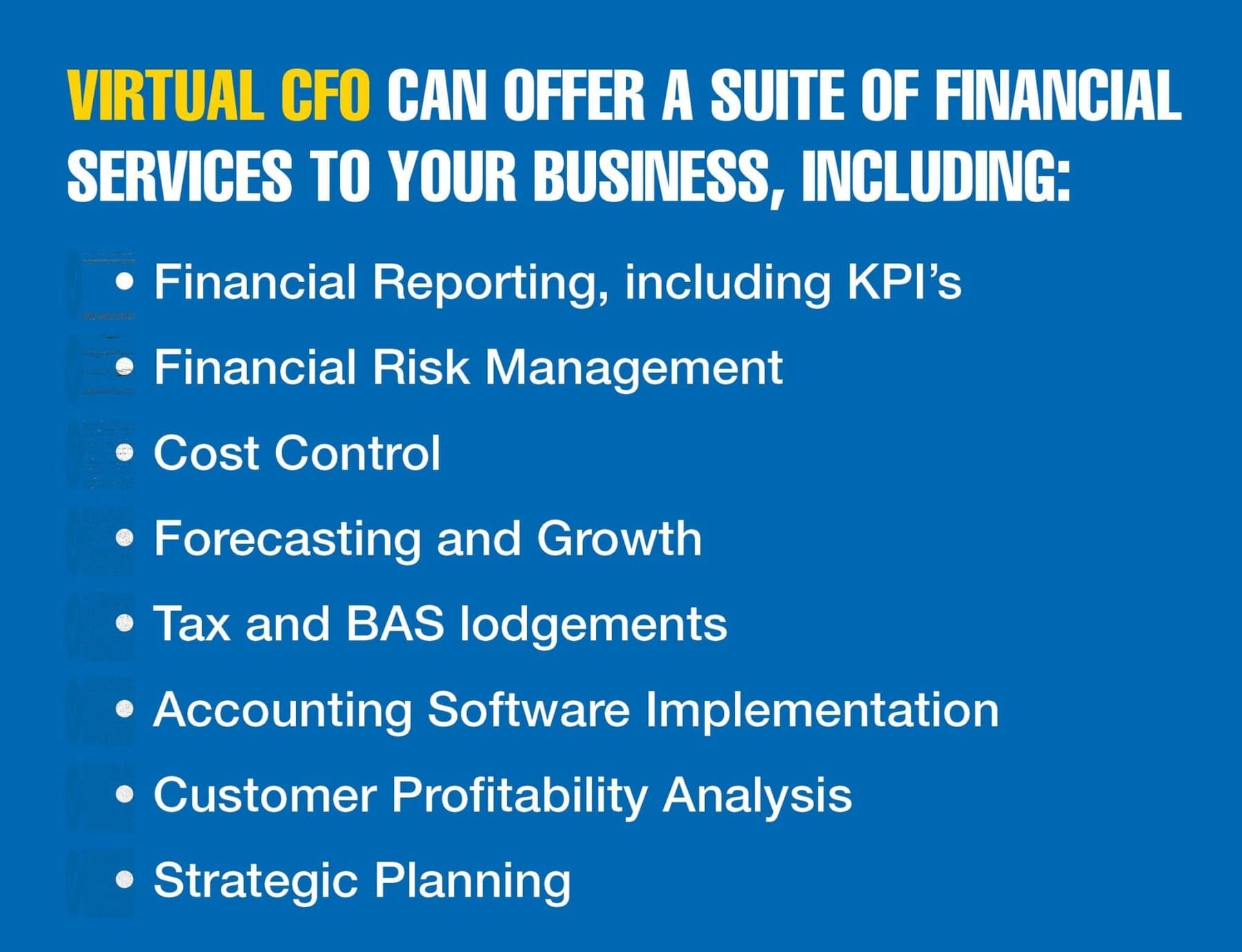 Other areas that a VCFO can help your business:
Provide recommendations on the best software to match your needs
Share insights on ways to reduce admin time and reduce overheads
Help deploy cash efficiently and identify growth opportunities
Minimise financial risks and roadblocks
Align budgets to the future direction and goals of the business
Find ways to acquire capital and equipment at the lowest possible cost
Act as an independent adviser and sounding board
What can you expect to pay for a VCFO?
You only pay for what you need which means it can be much cheaper than hiring a full-time CFO. Depending on the range of services provided and the size of the business, you can expect to pay between $2,000 to $10,000 a month.
The ideal VCFO for a startup is someone who has already worked with founders and startups before as they will be familiar with the tech sector and know what metrics matter at each stage of a startup's life – whether that's tracking cashflow, monitoring runway, calculating customer acquisition costs or identifying most profitable sources of revenue.
VCFO's offer different expertise and skills. Depending on the services you need or the industry you're in, a VCFO can help across a range of areas including advice on CRM / ERP systems or financial analysis on a potential merger and acquisition. Finding the perfect match depends on what qualities you're looking for and if they're the right fit for your business.
The best outcome for a VCFO is to be able to pass the baton onto a full-time, experienced and qualified CFO when the business has scaled successfully and now need a full-time, in-house CFO resource. When this happens, the business is well on its way to success.